All seeds are sold as collectables and we no way endorse the germination of seeds within the eu. Please check your relevant country's laws.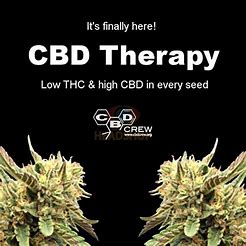 Description
CBD Crew's Therapy CBD sees the announcement of a world-first with the release of this long-awaited high CBD and low THC medicinal marijuana strain in a stable seed form. While there are seed varieties that are derived from hemp strains CBD Therapy is solely derived from high THC cannabis strains which has taken 4 years to stabilise with the help of scientific laboratory analysis.
Therapy has been extensively lab-tested in both the USA (The Wercshop) and Europe (Spain's Canna Fundacion). We anticipate that CBD Therapy will be revolutionary in treating patients who do not want high THC, such as those suffering with Dravets syndrome or epilepsy, or those for whom the potentially psychotic effects of high levels of THC in cannabis is contra-indicated.
With further testing and a lot of great feedback, CBD Crew are working on stabilising the THC content further still, as not all pheno-types produced low THC levels. Some are closer to 5:1 (CBD:THC) and even a few at 2:1, so CBD Crew did an extensive new round of testing of the latest seed crop to measure the frequency of these different pheno-types. They found that 50-75% of the CBD Therapy seeds will have very low THC with high CBD, but 25-50% could have higher THC levels. No seed will produce only high THC, always both CBD/ THC. No seeds produced higher THC than the CBD but variations from 20:1 to 2:1 can occur. In every package, there will be one or more low THC, high CBD phenos.
Yields are high for this mostly indoor indica/sativa hybrid with 500 gr/m2 harvests in 8 - 9 weeks of flowering. Its buds have an earthy, fruity taste with an accompanying relaxing, soothing and calming effect that will be ideal for those patients who do not wish to "get high".
While it is not a cure for cancer on its own it provides a seed strain that can be controlled in medical grow rooms and furthermore in medical extraction processing to create a suitable medicine for many types of illnesses and conditions. CBD Therapy is a masterpiece of scientific breeding that allows patients to take back control of their lives, supplement a patient's need for cannabinoids and generally improve the welfare and quality of life for those who use it.
N.B.: This strain is NOT hemp and can not be grown as hemp due to the risk of higher THC than 0.5 due to it's genetics of pure cannabis.
Characteristics
| | |
| --- | --- |
| BREEDER/BRAND | CBD Crew |
| GENETICS | Various drug variety cultivars |
| PACK SIZE | 5 Seeds |
| VARIETY | Indica / Sativa |
| FLOWERING TYPE | Photoperiod |
| SEX | Feminised |
| THC CONTENT | 0.5% |
| CBD CONTENT | 8 - 10% |
| YIELD | 500 gr/m2 |
| PLANT HEIGHT | not given |
| GROWS | Indoors |
| FLOWERING TIME | 8 - 9 weeks |
| HARVEST MONTH | n/a |
| MEDICINAL PROPERTIES | Suitable for a wide range of ailments, the THC:CBD ratio is 1:20. |
| TASTE / FLAVOUR | Earthy, Fruity |
| EFFECT | Body, Calming, Relaxing, Soothing |
BUY FEMINIZED CBD THERAPY SEEDS NOW
Another great strain derived from the famous "Charlottes Web" is Charlottes Angel.
Description
CBD Charlotte's Angel is a new high CBD, low THC medicinal cannabis strain from Dutch Passion. This is an all-Dutch affair with the breeding parents selected from high-CBD Dutch Charlotte and the Amsterdam clone-only Red Angel CBD strain. Growers can expect bumper harvests from this sativa-dominant plant.
CBD Charlotte's Angel takes approximately 9 - 12 weeks to finish flowering but the extra wait is more than worthwhile as yields are very high with this strain. The finished buds exude a pleasant herbal smell with notes of pine and diesel. CBD levels can range between 10 - 16% with a likely average of 15%. THC content, in contrast, is very low indeed - less than 1% with an average of 0.7%. This means that patients, especially the very young, frail or old, can medicate without any risk of getting high, something that many people who can benefit from medical marijuana have concerns about.
Resin production is high making it a very solution for those wanting to produce high-CBD, low-THC concentrates. The effect is deeply satisfying on a physical level as it serves to relax the body promoting a feeling of well-being and calm while also having anti-anxiety properties. Dutch Passion have also discovered an unexpected bonus for heavy recreational smokers/vapers in that it really satisfies the "craving" for a smoke without getting the user high - something that isn't always desiired even by the most ardent enthusiast. In this manner it can help to reduce tolerance to cannabis and consequently consumption as well.
Other High CBD low THC strains include:



With over 10,000 trusted reviews and a huge variety of strains we believe that seedsman are a must visit if your thinking of starting your own seed collection.
beneficial herbs